Polycom HDX 9000 Series

Polycom HDX 9000 Series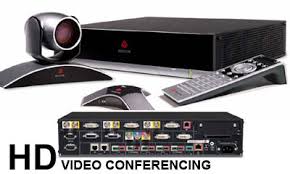 Premier video conferencing systems for high impact visual experiences -
Raising the bar for performance and flexibility, Polycom HDX 9000 series video conferencing system deliver high-definition collaboration experiences to conference rooms, lecture halls, executive suites and more.
High-performance architectures radically boost visual communication
Polycom HDX 9000 series systems powerfully and seamlessly integrate with rich-media tools to enhance any presentation or meeting environment. Through integration of Polycom HDX 9000 series systems powerful set of APIs and abundant video and audio connectors, customers can create and customize conferencing solutions for simple to advanced applications, including auditoriums utilizing multiple cameras, projectors and displays; executive boardrooms with touch-panel displays, recessed lighting and individual participant monitors; and training facilities with high-definition lecture recording systems and HD document cameras. Polycom HDX 9000 series systems also offer greater conferencing flexibly with the optional embedded multipoint feature, which allows multiple sites to be brought online quickly and easily.
Benefits:
High-definition video conferencing – Natural communications up to 1920 x 1080 at 30 fps, with exceptional resolution even at lower data rates.
High-definition voice – Polycom Siren 22 and Polycom StereoSurround technology for powerful, superior room-filling audio performance.
High-definition content sharing – Polycom collaboration technology for sharing graphics, presentations and rich-media content with HD and non-HD systems.
Flexible, simplified integration – 2U design, flexible video and audio inputs and outputs for integration into many types of rooms and environments, with complete system remote control.
Call us on 021 551 1206 for pricing and demonstrations.