Polycom HDX 8000 Series

Polycom HDX 8000 Series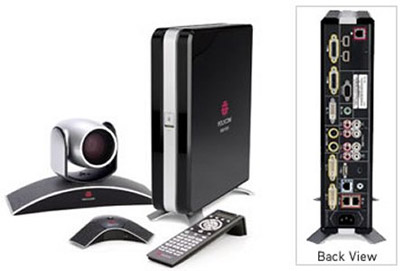 Dramatically increase productivity and communication among project teams –
For organizations migrating to high-definition video and audio communication, Polycom HDX 8000 series systems provide a flexible and robust solution ideally suited for distance education, remote patient care, on-demand project collaboration and more.
Enhancing Collaboration with HD Technology
The clarity of Polycom HDX 8000 series systems enables users to interact over video freely and naturally, and with the HDX 8000 series systems embedded multipoint and content-sharing capabilities, remote team members can quickly and easily be brought together to collaborate on projects visually in this superior telepresence solution.
Designed to high-definition broadcast standards, Polycom HDX 8000 series systems solutions utilize Polycom HD Voice technology to convey distortion-free voices and sounds, while Polycom StereoSurround audio technology separates room sounds into left and right channels, giving an immediate sense of the physical location of opposite-end participants.
Benefits:
High-definition video conferencing – Natural communications up to 1920 x 1080 at 30 fps, with exceptional resolution even at lower data rates.
High-definition voice – Polycom Siren 22 and Polycom StereoSurround technology for powerful, superior room-filling audio performance.
High-definition content sharing – Clarity and ease of sharing multimedia content from video to slide presentations in crisp high-definition.
Flexible furniture solutions – Stunning high-definition displays, powerful audio output and stylish design available in optional packaged furniture solutions.
Call us on 021 551 1206 for pricing and demonstrations.